Feature Friday: Timeraiser Calgary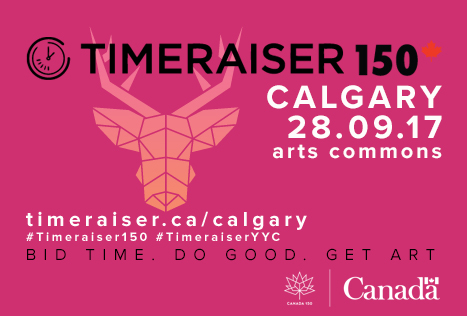 I have the privilege of featuring a special community event this week: Timeraiser. Timeraiser is a unique program connecting nonprofit organizations to skilled volunteers in their communities. In 2017 Timeraiser is Timeraiser150, a Canada 150 signature program. To celebrate Canada's 150th birthday, each province will host a Timeraiser150 party. Timeraiser150 attendees the opportunity to earn a piece of artwork by volunteering time, not dollars.
Tell me a little bit about Timeraiser.
Timeraiser150 is a Canada 150 Signature Project supporting emerging Canadian artists and non-profit organizations.  10 Timeraiser150 parties in 10 provinces allow Canadians to bid on original art by investing volunteer time, not dollars, to causes they care about.  Each Timeraiser150 pulls out all the stops to throw a great party - from live performances to delicious local food and drink. Timeraiser is truly a celebration of creativity and community!
Online150 is an online extension of Timeraiser150.  Through Online150 Canadians from coast to coast can purchase art by volunteering their time with a non-profit organization in their local community.
Artists are paid for their work, non-profits find skilled volunteers, Canadians find meaningful volunteer opportunities.
Through Timeraiser150 and Online150, Framework aims to collectively raise more than 150,000 volunteer hours for non-profits across Canada in 2017, connecting Canadians to their communities and the causes they care about.
How did Timeraiser start?
The event was started back in 2004 in the hopes of bridging several common gaps in the art and volunteer community; offering a new market entrance to local emerging artists, making original artwork more attainable to those in the community, and connecting non-profits with skilled volunteers. Due to the event's success at ticking off all 3 areas, the event has continued to happen annually, and has grown across the country. The first Timeraiser party was in Toronto, and in 2015, Calgary hosted its 10th Timeraiser event!
What inspires you most about your community?
What's really great about the Calgary event is the diversity you see in all aspects of the event and the participants. This year especially, we've got a wide range of art and mediums; photos, paintings, 3-Dimensional work, and everything in-between.
In addition to the art, the non-profits that participate in the event showcase the vast diversity in the Calgary community. (Non-profits can be seen at http://www.timeraiser.ca/calgary).  The non-profits represent interests such as the arts, wildlife and animal welfare, community well-being, access to athletics, and youth engagement in STEM.
It's the pull of the artists and non-profits that have attracted such a young, vibrant, and diverse crowd year after year, and we anticipate this trend will continue for 2017. You'd be hard pressed to attend the event and not find at least one piece of art you like, and one non-profit you'd love to volunteer your time to.
Why should people attend a Timeraiser event?
I think one of the biggest recurring themes I've seen with Timeraiser is the possibility for success when you're willing to try something new and/or outside of your comfort zone. So often we hear about attendees who start volunteering for a new nonprofit that they speak with and learn about at the event, and it winds up being such a great match for both involved. The attendee finds a new, rewarding volunteer outlet, and the non-profit finds a much-valued volunteer. So many of these stories and opportunities wouldn't have happened had the attendee not been willing to reach out to the non-profits at our event. Same thing goes for our artists – many artists have gone on to return to Timeraiser year after year, after a 'let's give this a try' application for their first event.
Tell me three fun facts about Timeraiser.
Since 2003, Timeraiser has:
Hosted 73 events across Canada
Invested $1,048,851 in the careers of emerging Canadian artists
Raised 156,602 volunteer hours from art winter pledges
How can people get in touch?
Website: http://www.timeraiser.ca/calgary 
Twitter: @TimeraiserYYC
Instagram: @Timeraiser
Facebook: @Timeraiser
Do you know of a person, business, non-profit or other organization doing amazing work in Calgary? Tell me about it! Visit the Feature Friday page for more information!