Feature Friday: The Clothing Bar Boutique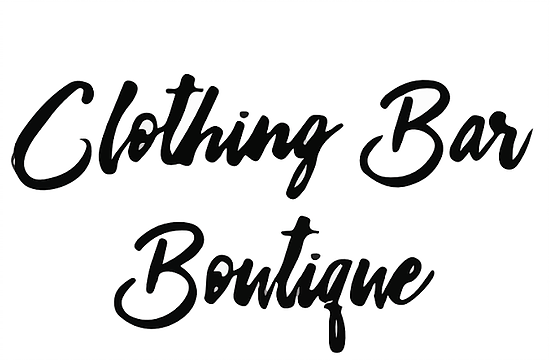 I love just about any store with "Boutique" in its name. It's like my siren's call. I can't help but walk in and buy everything! I bought my first pair of non-neutral shoes from Katie, who is the owner of this great boutique. The story behind The Clothing Bar is super sweet and inspiring. Opening a brick and mortar store in a recession is not easy, but The Clothing Bar is thriving. This is evident in the engaged community this store has built since opening in 2015. Here's more of Katie's story.

Tell me a little bit about yourself and your work. Where are you from? What do you do?
I was born and raised in the YYC, and I truly love what I do. I opened The Clothing Bar in 2015, and haven't looked back! I spend most of my days in the store, or you can usually find me at the gym, or walking my little dog.
What inspires you to do what you do? How did you start doing this work?
I knew I was meant to be my own boss. It was just an instinct. So I made a plan, read a ton of books, and started the journey! I find the best way to stay inspired is to remember why I started and connect/collab with the coolest people in Calgary.
What inspires you most about your community?
The small business community in Calgary has grown substantially in the last 5 years. I am so lucky to be a part of it, and am proud to grow and be involved with such talented people. I feel like everyone I've met has taught me something about how I choose to run my business, and it inspires me to know so many people are running their own show.
If you could give anyone who is starting out in your field one piece of advice, what would it be?
Don't be afraid to ask for help! I've learned that if I had put my pride aside sooner, I would have had fewer challenges. Don't get me wrong, there will ALWAYS be challenges and you can't rely on people to do the job for you, but if you surround yourself with the right people, they will be more then willing to help where you can't necessarily help yourself.
Tell me three fun facts about yourself or your organization.
I have a (not) so secret obsession with crime shows. Forensic Files on replay please!
I'm a sucker for white wine and coconut oil. Not together obviously! They just seem to always cheer me up.
The Clothing Bar got its name because I originally wanted to put a bar inside!
How can people get in touch?
Website: www.clothingbarboutique.ca Facebook: The Clothing Bar Instagram: @clothing_bar_yyc
Do you know of a person, business, non-profit or other organization doing amazing work in Calgary? Tell me about it! Visit the Feature Friday page for more information!